SR 161 Improvements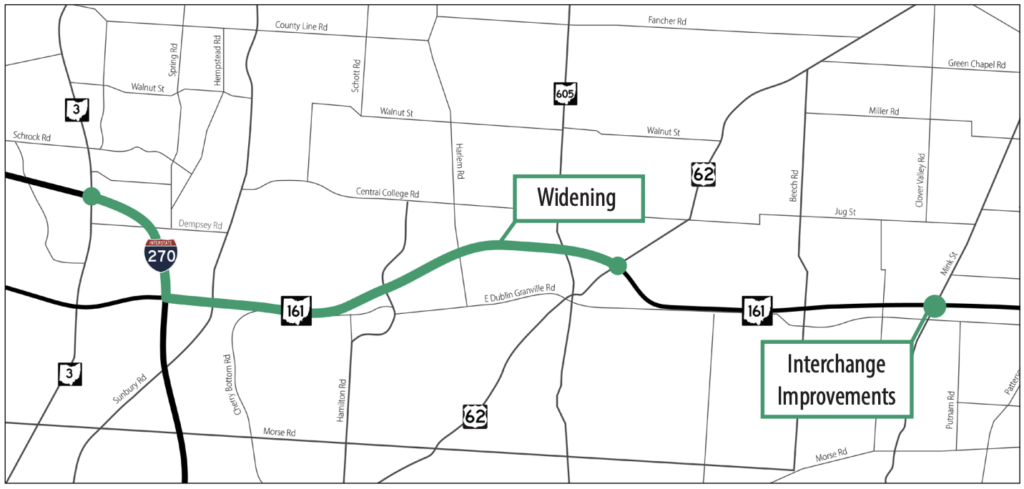 The Ohio Department of Transportation (ODOT) is proposing an improvement project along State Route 161 and I-270 in Franklin County to accommodate increased traffic from expected future development in the area. The proposed improvements include:
•   Widening SR 161 between I-270 and the U.S. 62 interchange
•   Widening the ramp from SR 161 west to I-270 north
Construction is scheduled to begin in July of 2023, with the additional lanes opening by November of 2024, and all other construction activities completed in August of 2025. Because capacity is being added, ODOT says it will look into whether a noise wall will be needed.
Ramps at the following interchanges may require detours during construction:
•   SR 161 and I-270 access at Sunbury Rd.
•   SR 161 and I-270 access at Little Turtle Way
•   SR 161 at Hamilton Rd.
•   SR 161 at New Albany Rd.
•   SR 161 at Johnstown Rd. (U.S. 62)
Ramp closures will be temporary and will not occur simultaneously between interchanges.
You can sign up for email updates to receive future project notifications by visiting transportation.ohio.gov. Or Click here to access a PDF of the planned SR 161 improvements.